Counter Shutters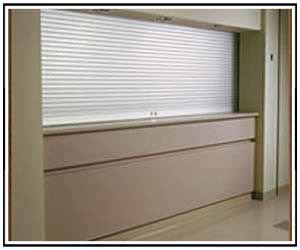 The commercial counter shutters provided by OGD® Overhead Garage Door in DFW offer many of the similar features of the rolling service doors while providing a more compact design structure. Counter shutters also lend many appealing solutions for reduced overhead clearances and smaller openings. The commercial rolling counter doors we provide at DFW OGD® Overhead Garage Door are ideal solutions for commercial door applications including retail businesses, restaurants and concession stands, professional service environments, corporate establishments and much more. The C.H.I. and Wayne Dalton commercial rolling shutter doors provide remarkable security with a customizable aesthetic appeal for the many diverse businesses throughout North Texas.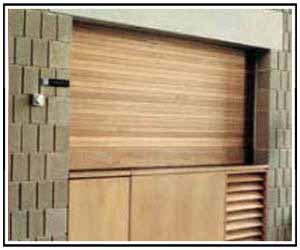 Wayne Dalton Rolling Counter Shutters
Built from durable materials, the rolling counter shutters from Wayne Dalton offer stylish, high performance features to meet the needs of many industries. With its counterbalance assembly that utilizes a spring barrel design that encases the mechanism and provides an axis around the curtain coils. The torsion-type counter-balance springs are oil-tempered and wound from steel to provide accuracy to balance the door. They offer a variety of operational choices based on the use and application needs as well as many attractive options for customized style and appearance.
Wayne Dalton Rolling Counter Shutter Door Specifications
Counter Shutter Product Features
Aluminum, Galvanized Steel, or Stainless Steel
Standard Max Width 15'
Standard Max Height 7'*
* for larger openings, please consult the factory.
2" Flat slats
Lift Up, Crank or Motor Operation
Counter Shutter Custom Options
Powder Coat Finish
Slide Locks
Cylinder Locks
Center Locking
Counter Cutouts
Mullion Systems
Sensing Edges
Secur-Vent® Perforated Slats
Fascias
Integral Frame Units
C.H.I. Overhead Doors – Rolling Steel Counter Shutter 6500
The counter shutter 650 series roll-up doors from C.H.I are the leader in security, flexibility and appeal. With their exclusive joint design, they produce a flush curtain to achieve a smooth, seamless and clean look with every use. Commercial counter shutter door users get the benefits of the state-of-the-art design, fit and finish with the simplistic and practical uses that the doors represent.

C.H.I Counter Shutter 6500 Series Specifications
Counter Shutter Door Features
Model 6544 – clear anodized, extruded aluminum curtain and guides
Model 6522 – painted steel curtain with clear anodized, extruded aluminum guides
Model 6566 – stainless steel curtain with a #4 brushed finish and stainless steel "J" guides
Operation – manual, invisible tubular motor, awning crank, or exterior mount motor