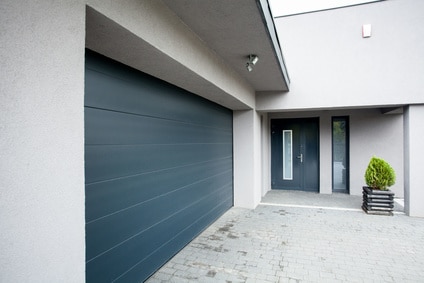 5 Garage Door Styles with Remarkable Curb Appeal
A garage door can either enhance or diminish the appeal of a house. If your house doesn't look appealing from across the street, perhaps the problem lies in your garage door. But no worries, there are a number of garage door options that can help improve the appearance of your house. In addition to offering a better aesthetic appeal, upgraded garage doors can be easier to use thanks to their more advanced technology. On that note, let's look at five garage door styles and how they can help improve the curb appeal of your house.
1. Traditional Rail and Stile
The time-honored rail and stile garage doors made of wood gives a classic look with raised and recessed panels. They complement home architectures ranging from traditional to contemporary by adding timeless elegance to them. Property owners can also paint these doors to match the color scheme of their house. This style of garage door comes at an affordable price, and panels are available in a number of sizes.
2. Carriage Style Doors
Typically, people install this style of swing door in cottage and shaker-style houses. The looks of carriage style doors can be deceptive at times because it is possible to roll up these doors like a rolling steel fire door, not just swing-out. Carriage style doors fit in naturally and look beautiful in Tudor style houses. Their iron handles and hinges give them a vintage feel. They are available in various colors.
3. Garage Doors with Arched Top
Garage doors with characteristic contours such as the arched top add architectural elegance to garages. When homeowners paint the doors black and install an overhead lighting system, there is an element of sophistication and warmth in appearance. If you prefer the arched style of garage door, but don't want the door opening to be narrow, consider a brick facade above traditional doors to act as an arch.
4. Modern Style
If your house is of contemporary style, full view garage doors or streamlined aluminum doors with frosted-glass panels can be a good choice. These door types are designed for dynamic and eclectic modern houses, but they work equally fine with houses built in mid-century styles. Modern garage doors are marked by the absence of elaborate embellishment or superfluous details. Clopay garage doors in Dallas and other metropolis are a good example of it.
5. Customized Look
Homeowners can also consider custom garage door styles. The different door types discussed above are easily customizable. You can integrate unique features and add finishing touches to make the doors more appealing. A few hardware and windows can revamp what is an otherwise a bland garage door. For example, you may match the garage door windows to the windows on your house.
Looking for a Garage Door Company?
If you find your garage door uninspiring, in need of repair, or it just doesn't complement the style of your house, it might be time to think about investing in a replacement. That's where we can help. OGD® Overhead Garage Door is a trusted garage door repair and installation company in Fort Worth, Texas, serving both residential and commercial clients with a broad spectrum of products and services. To schedule a visit, call 800-471-4505, or send a message by filling out our contact form and we'll take it from there.